Anything submitted using the two forms below may be allowed to appear for public reading. If you just have a question, want to inquire, or anything not fitting the catagories below, please use our questions form.
Leave comments/feedback: Feedback Form


Hi, I came across your site and really enjoyed it. I have my own site dedicated to finding the best speech pathology schools in the US and helping students find the best college to fit their needs. It is called www.onlinespeechpathologyprograms.net . Would you mind taking a look to see if you think it could be a valuable resource on your links or resources page? Any effort to post a link to my site would be greatly appreciated to help me spread the word and get some exposure. Thank you very much and I look forward to hearing back! Best, Adam Couch

Adam Couch Mr

I am currently teaching PE in a Tennessee middle school with grades 7th and 8th. In the 2012 - 2013 school year I will be moving into a new school that is currently being built that will have grades 4-7. This will be a new experience for me teaching students this young. I have been at the same school for 20 years, but I am very excited about this new challenge in my teaching career. I am looking for curriculum ideas from teachers that work with grades 4, 5,6 and 7 or combination of those grades. There is another PE teacher from my school that will be moving with me to the new school so that part of the transition will be easier. I will leave my email for any PE teachers that have advice or could send a copy of their curriculum maps for these grades.

thanks, David Clark - clarkd@ci.maryville.tn.us Maryville Middle School Maryville, TN

Admin response: please post this same question at the NASPE Forum. You will receive responses easily there, but make sure to register as a forum user. http://www.pelinks4u.org/naspeforum
David Clark 7- 8 PE Teacher

Hi there,

I thought the website we have been developing might be of interest to you and your visitors: www.nutritionist-resource.org.uk

The purpose of the site is ultimately to provide the UK with a huge nutrition support network, enabling those in need to find a nutritionist close to them and appropriate for their needs. This is a free, confidential service that will provide those seeking support with all the information they need. Every nutritionist on the site who has submitted their profile has either sent a copy of their qualifications and insurance cover to us, or is registered with a professional body with recognised codes of ethics and practice, this way we can be assured of their professionalism.

I was wondering if you would be able to provide a link to our website, possibly from your section here: http://www.pelinks4u.org/. I think our site will be a useful resource for those looking for support or general advice about nutrition.

Thank you very much for your time, I hope to hear from you soon.

Kindest regards

Natalie
Natalie Rumble

You may be interested in including a link to this exciting new article about exoskeleton suits for wheelchair users:

http://www.newdisability.com/exoskeletonsuit.htm
Gene Emmer

Do you have a twitter page set up if not could that be a option to get the word out this is a great site it may be fun to twit about a few articles each month. There are several pe twitters out there. Let us know??

I am a National Board Certified Teacher (Elem/Middle School physical Education). One of the reasons I went through the rigorous procedure to attain certification was so that if I moved out of state, I would be qualified to teach anywhere in the U.S. for that 10 year period. I certified in 2001 (Illinois) and just moved to Arizona. I applied for a part-time phys educ position and was shocked to hear that "..because your NB certification is not a "Generalist" certification, you will need to complete the following to receive an AZ teaching certificate:

1. Take and pass an Elem. Educ. exam
2. Take and pass an Elem. Exam in your field.
3. take and pass the U.S. Constitution Test
4. Take and pass the AZ Constitution Test
5. Take a college credit class on English Immersion.

Well, this was a shock and something I believe all P.E. teachers should be made aware of.....your NB Certification will not guarantee you are certified nationally!

Anyone can contact me if you have more questions re: this matter.
Gary Wojton gwojton@hotmail.com
Gary Wojton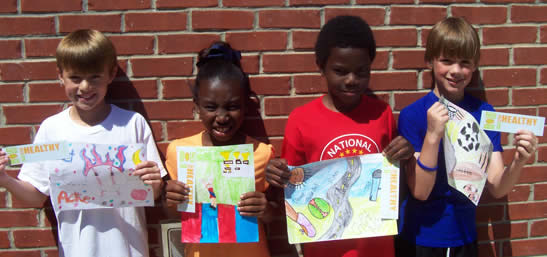 I wanted to thank you for the "DO More Eat Healthy" bookmarks. I wanted to send you a picture of some of our students with them if that is an option. We had a "Get Active" art contest for the month of May and all of our students that entered recieved one of your encouraging bookmarks.If you send me an e-amil address I will attach the picture. THanks again for providing the bookmarks. I love the quote on the back.
Kathy Shows Physical Ed. Teacher

pelinks4u staff:
New format is excellent ... congratulations to all. Steve: Some of your readers might like to see the January issue of the Elementary School Journal. It is entirely devoted to physical education.
Larry Locke

Please, Please Please, unsubscribe me!! I have been trying for months to get this done....Thanks!! - Joy Carinder

response:
Unfortunately you didn't include your email address with this posting, for we could have unsubscribed you right away. Your email address would not show to the public.
Each issue of PE News includes information about unsubscribing. Alternatively you can email directly to pelinks@pelinks4u.org and we can unsubscribe. Please include your email address in either case.
If you have problems unsubscribing or getting a quick response, please don't hesitate to contact the pelinks4u webmaster at coveyte@cwu.edu.

I purchased The NEW Physical Education: Promoting Healthy and Active Lifestyles DVD. The first chapter refers us back to PELnks4U for guided discussion questions. Where are the questions? - Judy Vanderford, PE/Health Consultant

Response from pelinks4u:
Judy, my apologies but I have yet to complete the questions. It is on my "To Do" list and as soon as they are completed I will be sure to put out an announcement. (Steve Jefferies, pelinks4u, Publisher)

Hi. I am a P.E teacher in MA always looking for new ideas. I just wanted to let you know that the (secondary) lesson/unit plans on your website are awesome. There is really nothing more "comprehensive" out there. The amount of detail and graphics makes it a great resource.

Keep up the great work.

Best,

Jacob Bersin P.E teacher

(The following can also be found on our
Health, Fitness, and Nutrition
page.)
I would like to announce a new resource for your health/fitness/nutrition section.
PreschoolRock.com
is a website for parents and teachers of preschoolers.
I am the nutrition writer and my section, Preschool Nutrition (
http://nutrition.preschoolrock.com/
), has tips for healthy eating, practical information about nutrients and healthy eating guidelines, food reviews, recipes, and new ideas for healthy meals and snacks. Here are the latest articles available at Preschool Nutrition:
Preschooler Calorie Needs - How Many Calories Does Your Preschooler Need?
Top Tips for Healthy Eating
What if My Preschooler Doesn't Eat Vegetables?
Please take a look and feel free to link to our content.
Regards,
Kati Chevaux, MS
http://nutrition.preschoolrock.com/

In response to Dr. Jeffries editorial about teaching fewer skills better- This is the philosophy of the Exemplary Phys. Ed. Curriculum(EPEC) that we use here at Woodmoor Elementary in Bothell. Some of our other elementary schools are piloting this curriculum. It would be great if the whole district used it K-12.
Pam Karp Physical Education Teacher

I think your website is awesome! I wish I had more time in the day to sit and read all the interesting material. Keep up the greatwork.......whether you know it or not you are making a difference for PE teachers.
Christopher J. Wendorf K-5 Physical Education Teacher, A.P.E.Teacher
Pages: (1)

[1]

Hello, I got a good basketball coaching web site for your links page. Not selling anything, just promotes FUN basketball. http://www.basketballcoaching101.com/ List of free drills, blank court diagrams, and more. If you or your webmaster could put a link from your site to ours, I would appreciate it. Bill Eaton Hudson NH http://www.basketballcoaching101.com/linktous.htm

Note from webmaster: Hello Bill. Thank you for your link. I justed added it at: http://www.pelinks4u.org/links/sportgamesactivities.shtml - listed alphabetically at #8

With all the new requirements for what we are teaching and how often kids are being required to have PE in public schools, many districts are adopting new curriculums. Locating these PE/Health Curriculums is near impossible. Our district has looked at a few including Fit For Life and Five For Life. These are good but I think it would be wise to look at more than three or four when deciding on a district wide adoption. Do you or the pelinks4u readers know of any others out there? Are they good or bad?
Billy Reamer Elementary PE specialist

I would like more information on the Learning Readiness PE pilot program referenced in Stephen Jeffries editorial. Both the reading and math academic areas.
Patti Abraham

I am looking for a new Health Education textbook for grades 9-12. Does anyone have any texts they would recommend?
Deb Follrath Teacher

Perhaps I am not looking far enough. Do you make original research papers available to read? I am very interested to read about what is going on out there. - Darlene Argano
Darlene:

pelinks4u focuses mainly on reporting on completed research, and especially the practical implications of research for teachers. Typically, research papers are sent to our professional journals for review before being considered for publication. Occasionally, pelinks4u will publish original essays by authors. We review those internally for publication consideration. Thank you for your interest. Please contact us if you have any additional questions.

Sincerely,

Stephen C. Jefferies, Ph.D., Professor
Physical Education Program Director
Publisher, PELINKS4U
Darlene Argano

My school did have lunch before recess last year due to kids getting sick from having lunch and then recess right after. However, it did not work too well as we had to shorten their play time in order to get thier hands washed and sanitized before they got to the lunch room. It did not work well enough so we are going back to the old way. If we had a longer day just for this it would work, but not feezible for elementary level.
Mandi PE TEACHER
Pages: (1)

[1]