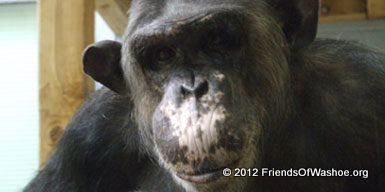 With great sadness...
    Our dear friend Dar died Saturday, November 24, 2012. The director of the Chimpanzee and Human Communication Institute (CHCI), Dr. Mary Lee Jensvold, said the post mortem examination revealed that Dar died from sudden cardiac failure. This is the leading cause of death in captive male chimpanzees.  The average life age of this population is 30 years; Dar was 36.  He was in otherwise good health.
     "Dar signed throughout his life, teaching us about friendships between humans and nonhumans and the minds of chimpanzees," said Jensvold. "He will be dearly missed."
    The local Ellensburg newspaper, the Daily Record, printed a wonderful editorial paying tribute to Dar and Washoe's family.  "...Much like the deaths of Washoe and Moja, this was a death in the family for the other chimpanzees in residence, Loulis and Tatu, the institute staff and volunteers, the campus community and the community at large..."  Read more.
More articles about Dar:
Seattle Times:  Chimp leaves a legacy of lessons for humans
Yakima Herald:  Dar, CWU's 36-year-old signing chimp, dies